Rare Goerz Refractor Complete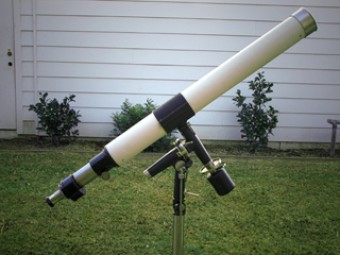 A very rare Goerz refractor by Zeiss-Ikon,
~100 years old, in excellent condition,
complete in original wooden case.  Includes
original german equatorial mount with slow
motion RA control, stand, original Goerz
eyepieces and erecting prism, lens cover. 
Antique Goerz Refractor
C.P. Goerz, Berlin, 60mm f/15 refractor on equatorial mount made at Goerz factory by Zeiss-Ikon circa 1920's.  The telescope includes original Goerz eyepieces (9, 12, 18, 25 mm Kellners), filters and erecting prism.  The eyepieces and filters are in their original dark blue velvet lined box. All are in perfect optical condition. The eyepieces and erecting prism are marked C. P. Goerz Berlin. The telescope, mount, pier and eyepieces are all contained in a heavy duty wood plank storage case with iron handles and steel latches - a real treasure chest! The equatorial head has finely marked setting circles.  The lens (Serial number 484725) is an air spaced 60mm f/15 doublet in a cell.  There are no scratches and the glass is in excellent condition.  The optical quality of the images are likewise excellent.  The handle of the long RA slow motion control is wrapped in leather.  The collapsible pier is marked with Serial number 23414.  The focuser is marked with serial number 22168.
History
C. P. Goerz was founded in 1886 by Carl Paul Goerz. Originally, it made geometrical drawing instruments for schools. In 1889 Goerz began making optical lens under the name of Lynkeioskop C/2. Lens making became his primary business. In 1890, Goerz products were introduced to the U.S. during the World's Fair at Chicago. During the First World War, Goerz's main production was for the German and Austrian military. C P Goertz also made a series of telescopic sights for sporting rifles that saw some use during the shortage of military
sniping rifles experienced during the early stages of the trench warfare that was to characterize much of World War I.  Goerz was an early advocate for socioeconomic equality, and ensured that his employees worked no more than 48 hours per week and received generous paid vacation and holiday packages. Carl Goerz died in 1923. In 1926 the German branch of Goerz merged with ICA, Contessa-Nettel and Ernemann to form Zeiss Ikon.
This telescope is described in the Zeiss Ikon pamphlet, above-right, as a Goerz Schulfernrohr.  The German word for telescope is "fernrohr" and "schul" means teach or instruct.  So this can be described as an "Educational Telescope."